Alchemus Prime's integrated approach balances human actions with the needs of the planet to create optimized solutions, so that everyone wins. We operate in ways that enhance our clients' ability to positively impact their organization, their clients, society, and ultimately, nature. For example, when we consider the behaviors we need to change to achieve better health and reduce climate change, we find numerous synergies: eating plant-based foods, choosing non-car means of transportation, and spending less time with our electronic devices and more time outside are behaviors that improve our health, help stabilize the climate, and contribute to cleaner air and water conservation. By opting to prioritize and implement initiatives that support and nourish all life, organizations can achieve sustained profitability, growth, and strategic advantage, as well as avoid legal and economic challenges once policies are put in place to internalize the cost of pollution and climate change. Through our array of services, we develop tailored frameworks, processes, and benchmarks to enable our clients to build, implement, and sustain solutions that benefit all stakeholders.
---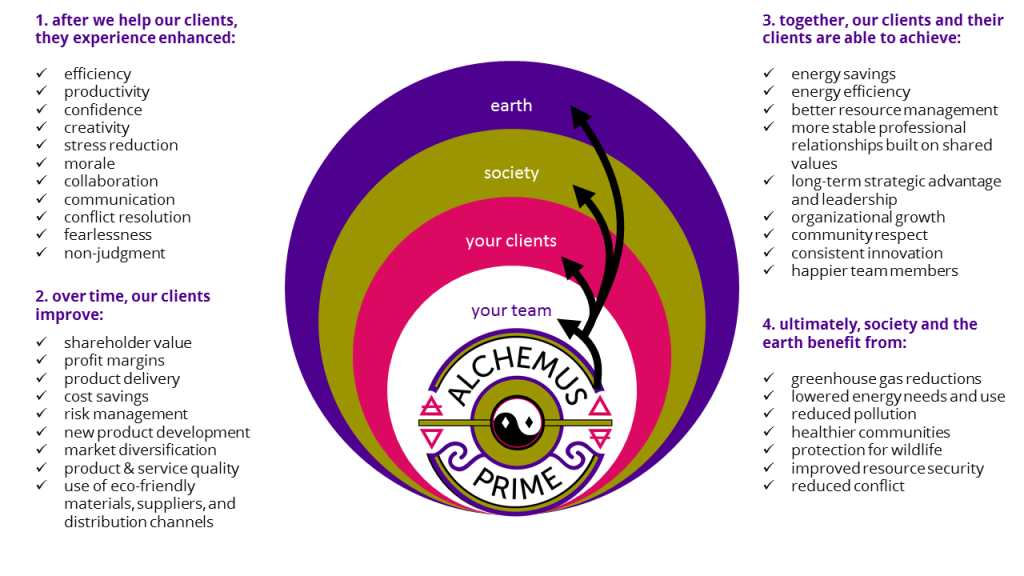 ---
Our model is the foundation for creating optimized solutions for our clients. The behavioral tools we bring to management consulting are reliable for keeping teams engaged, confident, and effective despite constantly changing internal and external environments. Our design thinking or human-centered design workshops offer a process for systematic innovation and collaboration. Alchemus Prime's unique approach to biomimicry provides options for harnessing inspiration from humans and nature, and translating it into sustainable solutions that offer cost savings, improve quality, and generate beneficial outcomes for all. We emphasize the benefits of meditation practices, activating inner purpose and integrity, and reducing stress and conflict while enhancing inspiration and creativity, as exemplified by the late Steve Jobs of Apple.
---
To see examples of win-win solutions, visit our Resources page.